PARENTS ARISE – RAISING CHILDREN GOD'S WAY COURSE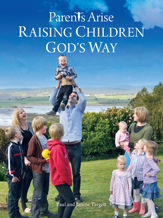 This six DVD set presents a course for parents seeking help in raising their children in God's ways. Paul and Janine Targett believe God has placed important instructions in His Word that are a treasure chest of wisdom for parents and children as they discover what God says about life, and how to put those instructions into practice. Both they and many other families have put these keys into practice with amazingly successful results.
This six session course has been successfully presented many times over the last twenty years in Tasmania. Now at last! It is available on DVD to be used more widely. A course every parent needs to watch! You will laugh! You may cry! You will LOVE it!
This series of DVDs is designed to be used in conjunction with the manual 'Parents Arise – Raising Children God's Way'. The manual and DVDs present teaching in six key areas of raising children. They are best used in a small group situation which allows discussion and sharing by parents seeking to learn how to be better parents. The manual and DVDs, however, can also be used individually as resources for parents or teachers of children. It has been said many times by participants that it is also a 'great marriage course!'
Sessions include:
DVD Session 1 – TEACHING BEGINS AT HOME
DVD Session 2 – WHY DO THEY DO THE THINGS THEY DO?
DVD Session 3 – ANGER – HOW TO TAME THE VOLCANO
DVD Session 4 – DISCIPLINE – A NASTY WORD OR A BLESSING
DVD Session 5 – IS FEAR A NECESSARY PART OF LIFE?
DVD Session 6 – PEACEFUL HOME – PEACEFUL CHILDREN
HOW TO CONDUCT THE COURSE:
Parents Arise – Raising Children God's Way Course 
This course is naturally divided into six sessions and can be taken over six weeks or over a weekend. 
There is an interval during the longer sessions to allow for discussion.
Longer sessions could be continued over two sessions at the discretion of the Leader.
Course Order for the Leader
Should include:
1. DVD Set of six –  
2. Manual and free Children Arise Sampler CD for each couple/individual enrolled – 
Optional extras
1.Parents Arise Book by Janine – an extra resource with added teaching not included in DVD series.
2.We recommend that at least one Children Arise CD be purchased to be played before and after each session. (Most parents purchase these CDs during the course as a resource to be used in their own families so it is helpful to have some on display.)  One CD for $20 or Set of five CDs for $90.
To allow for discussion it is important that each participant has a manual and sampler Children Arise CD so the teaching can be put into practice in the family between each weekly session.
Course evaluation sheets can be downloaded here : .doc or .pdf
These can be completed at the end of the course and sent to Paul and Janine Targett, 613 West Tamar Highway, Riverside, TAS 7250.
Thank you for sending these at the conclusion of your course as feedback is important to us.